WANT TO WRITE A NOVEL?
If you're thinking of writing a novel but don't know where to start, we can help you with that. We're writers too and know how daunting the road ahead may feel when you first put pen to paper (or hover over your keyboard). You may be excited beyond words and yet nervous about the process. We have you covered.
Our best-selling product, 'The Novel Author's Workbook' will help you plan your novel from the beginning stages of brainstorming to launching and marketing your new novel. We put the workbook together after one of us attempted NaNoWriMo one year, finishing with a confusing first draft in need of serious editing and plot-fixing.
The Novel Author's Workbook is designed to help you have a successful novel-writing + book launch experience. This workbook is a fiction author's best friend as it helps you pre-write your novel, keep track of the details of your story and prompts you to develop it further. Available in Print on Amazon and Printable PDF on Etsy.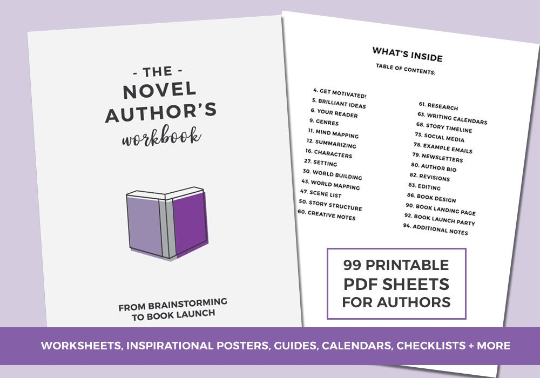 "Absolutely awesome! This author's workbook is so useful and very well made! As described and shown in the pictures, the advices and worksheets are great! Professional seller and fast download! 5 stars! :)"
~ Rachel in our Etsy shop.

JUMPSTART YOUR NOVEL
Organize your novel from start to finish in one place. Our best-selling workbook gives you a space to brainstorm, create reader profiles, outline your 3 act story and much more.
Going beyond the traditional novel planner, you'll find a book launch checklist, website design tips and map illustrations to help you with creating a reference for your world as you write.
You can check out other helpful workbooks and worksheets, as well as posters to inspire in our Etsy Shop.
Got a question? You can leave a message in the shop and I'll get back to you as soon as I can.
Subscribe to get all our latest news about new workbooks, courses and writing tips.
Happy Writing!
Lynne