THE CREATIVE NONFICTION WORKBOOK.
My best-selling workbook The Novel Author's Workbook has been a huge success for many years and I've got some fantastic reviews. I'm chuffed the workbook has helped so many writers get their wonderful stories out into the world.
But I realized a while ago that I didn't have a full workbook for writers who create nonfiction work. So, I remedied that this year. I have a new workbook just in time for NaNoWriMo. It starts in 3 weeks!! Are you in?
I learned about the creative way of telling memoir when I was attending an online conference during the pandemic last year. When I realized I could tell my memoir as a story, I was hooked. Soon after I set about putting this workbook together.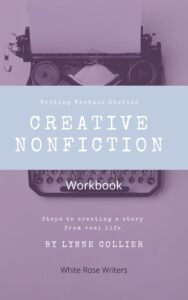 What Is Creative Nonfiction?
"A factual narrative presented in the form of a story so as to entertain the reader." — Wikipedia
I created this workbook for writers who want to make a nonfiction book from a creative perspective.
The worksheets and checklists are designed to help you keep your thoughts organized and focused.
This book is part of a collection of writing resources I wrote for my coaching clients at.
As with other forms of nonfiction, creative nonfiction relies on research and facts. While opinions may be offered within the story, the material must be verifiable and accurate.
What will your book be about?
Genre – a historical story based on facts, memoir, biography, autobiography…
Core Concept–the underlying message you want to say to your reader.
Format – how you want to present the information: short explanatory chapters, a creative nonfiction novel, a collection of short memoirs…
The benefit to your reader–how your book will influence your reader and what they'll take away from it.
Do you have something new to offer your readers, such as a different approach to your subject, updated information, or a unique viewpoint?
I this hope this workbook helps you write your fantastic book with confidence and have fun as an author writing it.
You can get the workbook in print on Amazon or in digital format (download) from my Etsy shop.
And you can also find other workbooks for writers on Amazon and in my Etsy shop.
Happy Writing! See you at NaNoWriMo!
~ Lynne